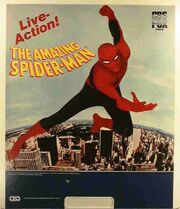 American television channel CBS made three "made for TV" films about The Marvel comics hero
Spider-Man
in the late 1970's. They were the first attempt of a live-action TV series based on the character. They were based around the network's concurrent television show
The Amazing Spider-Man
.
Films
The first, 1977's The Amazing Spider-Man, was made as a pilot to the TV series in the form of a two-hour film which aired in September of that year. The next two TV films were two part episodes from the show that were released together as a film. The first was titled Spider-Man Strikes Back and was released in 1978 combining the two-part episode "Deadly Dust".
The third was entitled Spider-Man: The Dragon's Challenge, released in 1981. It was a combination of the two-parter and series finale "The Chinese Web" first screened in 1979. The franchise was given an attempted reboot by Marvel (along with The Incredible Hulk) in the early 1990's, though it failed to materialise.
Reception
Fans were highly critical of CBS's films and TV show for both the radical changes made to the storyline from the comic books and the absence of any of the supervillains from the comics, unlike other shows such as Batman which prominently featured the comic villains.
Spider-Man co-creator Stan Lee, likewise disliked the franchise, and was highly vocal about his dissatisfaction with it. In one interview he said that he felt the series was "too juvenile" - a controversial statement given his credit as script consultant on each episode.
Recurring Cast