"Whatever comes our way, whatever battle we have raging inside us, we always have a choice. My friend Harry taught me that. He chose to be the best of himself. It's the choices that make us who we are, and we can always choose to do what's right. "
Spider-Man 3 is a 2007 superhero film written and directed by Sam Raimi, with a screenplay by Ivan Raimi and Alvin Sargent. It is the third film in the Spider-Man film franchise based on the Marvel Comics character Spider-Man. The film stars Tobey Maguire, Kirsten Dunst, James Franco, Thomas Haden Church and Topher Grace.
The film begins with Peter Parker basking in his success as Spider-Man, while Mary Jane Watson begins her Broadway career. Harry Osborn still seeks vengeance for his father's death, and an escaped convict, Flint Marko, falls into a particle accelerator and is transformed into a shape-shifting sand manipulator.
An alien crashes to Earth and bonds with Peter, influencing his behavior for the worse. When the alien is abandoned, it finds refuge in Edward Brock, Jr., a rival photographer, causing Peter to face his greatest challenge.
Spider-Man 3 was commercially released in multiple countries on May 1, 2007, and released in the United States in both conventional and IMAX theaters on May 4, 2007 by Columbia Pictures. Although the film received generally mixed reviews from critics, in contrast to the previous two films' highly positive reviews, it broke most of the opening weekend records, both in the United States and in foreign markets, including records held in IMAX theaters. It went on to gross $891 million worldwide, making it the 3rd highest grossing film of 2007 and the highest grossing film in the Spider-Man series. Additionally, having earned $336 million domestically, it was the highest grossing film of 2007 in the U.S.. However, The DVD sales results of this film didn't meet industry expectations.
Plot
Peter Parker has begun to feel secure in his life and plans to propose to Mary Jane. One night in a park, while Peter and Mary Jane are on a date lying in a huge spiderweb of his, a small meteorite crashes nearby, and an alien Symbiote oozes out, attaching itself to Peter's moped. Meanwhile, escaped convict Flint Marko falls into a particle accelerator, which fuses his body with the surrounding sand. The result allows him to shape shift at will, becoming the Sandman. Peter's best friend, Harry Osborn, who seeks vengeance for his father's death, which he believes Peter caused, attacks him. The battle leaves Harry with short-term amnesia, making him forget his vendetta.
Later, during a festival honoring Spider-Man for saving Gwen Stacy's life, Sandman attempts to rob an armored car, and overpowers Spider-Man. NYPD Captain George Stacy (Gwen's father) later informs Peter and Aunt May that Marko is the one who killed Ben Parker, and a vengeful Peter waits for Marko to strike again. The symbiote bonds with his costume while he is asleep; Peter discovers that not only has his costume changed, but his powers have been enhanced as well. The black suit also alters Peter's personality, making him more violent and spiteful, exemplified by a near lethal attack on Sandman during a battle underground.
The shift in Peter's personality alienates Mary Jane, whose stage career is floundering, and she finds solace with Harry. Harry recovers from his amnesia, and, urged on by an apparition of his dead father, forces MJ to break up with Peter. After Mary Jane leaves Peter, stating she is in love with another man, Harry meets him at a restaurant and claims to be the other man. Later, Peter finds him at the Osborn mansion. With the help of the black suit, Peter is victorious in a brutal fight, which leaves Harry's face disfigured. Influenced by the suit, Peter exposes and humiliates Eddie Brock, a rival freelance photographer, who has sold fake pictures to the Daily Bugle supposedly showing Spider-Man to be a criminal.
In an effort to make MJ jealous, Peter brings Gwen to the nightclub where Mary Jane works. Peter gets into a fight with the club's bouncers and knocks MJ to the floor. Peter realizes the symbiotic-suit is changing him for the worse. He runs out of the nightclub and goes to a church bell tower to get rid of it. Initially he is unable to pull the suit off, but the sound of the church bell weakens the symbiotic, enabling Peter to break free. Eddie Brock is at the same church praying for Peter's death when the symbiotic falls from the tower and takes over his body. The newly-empowered Eddie finds Sandman and suggests that they join forces to defeat Spider-Man.
The pair use Mary Jane as bait to force Spider-Man to confront them. Peter approaches Harry for help, but is turned down. However, Harry learns the truth about his father's death from his butler Bernard, and arrives in time to rescue Peter, teaming up against Brock and Sandman. As the fight progresses, Brock attempts to impale Peter with the glider, but Harry sacrifices himself and is fatally wounded. Peter recalls how the church bell's toll weakened the symbiotic, and frees Eddie from it by clanging several pipes together. Peter throws a pumpkin bomb at the symbiotic just as Eddie attempts to rebond with it, killing him and destroying the symbiotic.
After the battle, Marko tells Peter that he had no intention of killing Ben Parker, and that it was an accident born out of a desperate attempt to save his daughter's life. Peter forgives Marko, who dissipates and floats away. Peter and Harry forgive each other, before Harry dies with Mary Jane and Peter at his side. After Harry's funeral, Peter and Mary Jane begin to mend their relationship.
Cast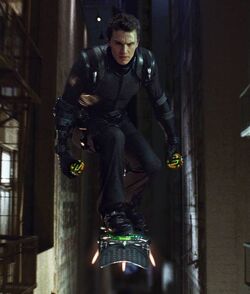 Appearances
Locations
Items
Vehicles
Home Release
Spider-Man 3 was released on Region 4 DVD (anamorphic widescreen) in Australia on September 18, 2007. For Region 2 in the United Kingdom, the film was released on October 15, 2007. Spider-Man 3 was released on DVD in Region 1 territories on October 30, 2007. The film is available in one-disc and two-disc editions, on both standard and Blu-ray formats, as well as packages with the previous films and a PSP release. Sam Raimi, Tobey Maguire, Kirsten Dunst, James Franco, Thomas Haden Church, Topher Grace, Bryce Dallas Howard, Laura Ziskin, Avi Arad, and Grant Curtis are among those who contributed to the audio commentaries.
Sony announced plans to create "one of the largest" marketing campaigns in Hollywood for the October 30, 2007 release of the DVD. Beginning with a partnership with Papa Johns, Sony printed close to 8.5 billion impressions for pizza boxes, television, radio, and online ads. Sony also worked with Pringles Potato Crisp, Blu-Tack, Jolly Time Pop Corn, and Nutella. Sony's Vice President of marketing, Jennifer Anderson, stated the studio spend approximately 15% to 25% of its marketing budget on digital ad campaigns; from this, Papa Johns sent text messages to mobile phones with ads. Anderson stated that there would be three sweepstakes held for consumers, where they would be able to win prizes from Sony and its promotional partners.
In the United States, the film grossed more than $124 million on DVD sales. It also grossed more than $43.76 million on DVD/Home Video Rentals in 11 weeks. However, the DVD sales results of this film did not meet industry expectations.
Sequel
In 2007, Spider-Man 4 entered development, with Raimi attached to direct and Maguire, Dunst and other cast members set to reprise their roles. Both a fourth and a fifth film were planned and at one time the idea of shooting the two sequels concurrently was under consideration. However, Raimi stated in March 2009 that only the fourth film was in development at that time and that if there were fifth and sixth films, those two films would actually be a continuation of each other. James Vanderbilt was hired in October 2007 to pen the screenplay after initial reports in early 2007 that Sony Pictures was in contact with David Koepp, who wrote the first Spider-Man film. The script was subsequently rewritten by Pulitzer-winning playwright David Lindsay-Abaire in November 2008 and rewritten again by Gary Ross in October 2009. Sony also engaged Vanderbilt to write scripts for Spider-Man 5 and Spider-Man 6.
In 2007, Raimi expressed interest in portraying the transformation of Dr. Curt Connors into his villainous alter-ego, the Lizard, a villain which had been teased since Spider-Man 2; the character's actor Dylan Baker and producer Grant Curtis were also enthusiastic about the idea. By December 2009, John Malkovich was in negotiations to play Vulture and Anne Hathaway would play Felicia Hardy , though she would not have transformed into the Black Cat as in the comics but a new superpowered figure, the Vulturess. According to sources online, the film would have had the Vulture buying out the Daily Bugle, forcing Spider-Man to kill him. Vulture's daughter, Felicia, would have had an affair with Peter Parker in order to shatter his engagement with Mary Jane. These rumors were never confirmed. Raimi stated years later during an interview in 2013, however, that Hathaway was going to be Black Cat if Spider-Man 4 had been made.
The next film in the franchise, called Spider-Man: Homecoming was released on July 7, 2017, with Tom Holland as Peter Parker.
Gallery
Videos
Deleted and Extended Scenes
Video game
Main article: Spider-Man 3 (video game)
A video game based on the movie was first released in 2007. It was Released on the PS3, PS2, PSP, GBA, Nintendo DS, PC, Mobile Phones, Xbox 360, and Wii. The Xbox version of Spider-Man 3 was supposed to be released, but it was cancelled due to the systems low sales, and got replaced with the GBA version. Also the GameCube version was cancelled due to its discontinuation.
External Links
Community content is available under
CC-BY-SA
unless otherwise noted.